Weekly Wishlist #8
The new brand we need to have a word about, the dress that's 40% off and are & Other Stories are giving quiet luxury?!!?
This week feels like we're going back to basics. There's nothing too trendy here, just classic pieces that will be hung in our wardrobes and worn on repeat for years to come. More just a round-up of what's been on my brain whilst I've been scrolling this week. There are a quite a few things that are back in stock that I wanted to shout about from the rooftops, a good Phoebe Philo dupe if you'd like to scratch that itch and a fancy dress purchase that I'd been eyeing up for months and finally pulled the trigger on that I think will be FAB for the festive season. Here we go…
As always free subscribers will be able to preview the first five items from the list and paid subscribers will be able to see the full 10 piece edit every week and have exclusive access to my Weekly Wardrobe Diary which will detail every single thing I've worn in the week prior and hopefully arm you will ALL THE OUTFIT INSPO. A subscription works out at £1.15 per week if you sign up to the monthly plan - see it as a wardrobe investment because you're going to have outfit formulas by the bucketload. The next instalment of that will be in your inbox on Sunday evening/early Monday morning. See you then!
---
Aeyde Uma Leather Mary Jane Ballet Flats* (I have them in a 39.5 - they run true to size)
Good news for those of us who have been after these flats for the past two months - THEY ARE BACK IN STOCK! NAP finally has them and is my preferred choice of retailer as I just find the returns process to be super quick and easy (DHL pick-up from your door for free!? Yes please!). I have tried on the 39, 39.5 and the 40 and in the end decided that they are bang on true to size and the 39.5 fitted like a dream. I took them straight to my cobblers where they are currently undergoing some safety improvements in the form of a non-slip sole being added because it's a true leather sole situation which we all know equals an ice-skate thanks to the weather over here. I'm so excited to finally get wearing them!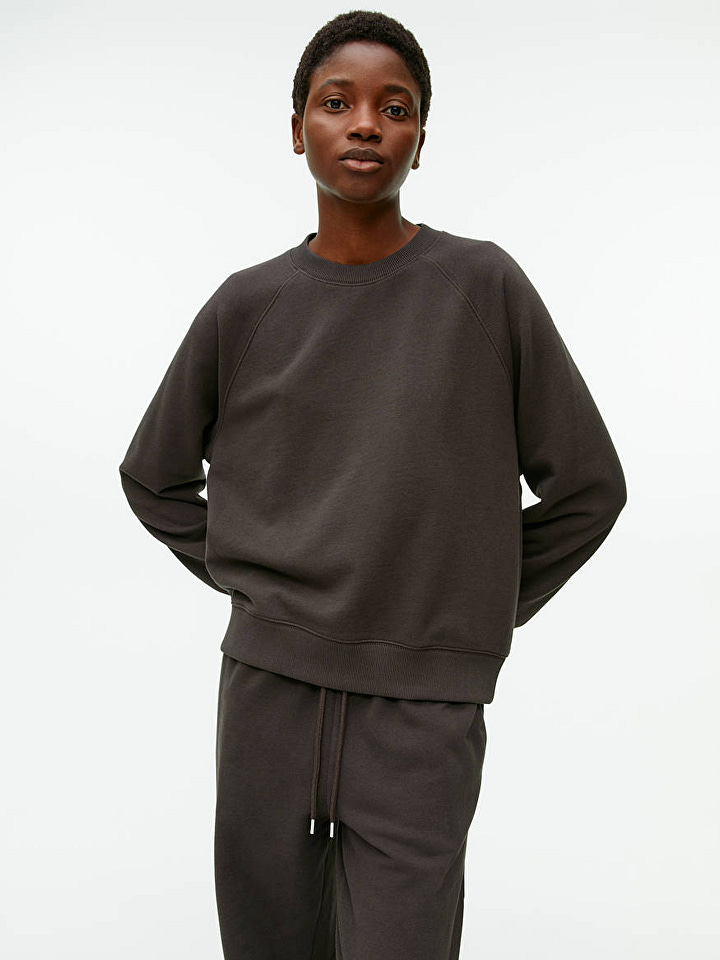 ARKET Soft French Terry Sweatshirt* & Sweatpants in Brown* (I wear both in a M)
I feel like I have mentioned the jumper in a Weekly Wishlist somewhere along the line, but I did an actual HOORAY out loud when I saw that they were finally stocking the matching sweatpants too. This is my ultimate at-home tracksuit. I have it already in the grey and I do not need another matching set, but I am very, very tempted. Because not only do they make for a comfy, but still sorta put-together rotting outfit, I do like to wear the top actually outside the house too on casual days. One week they'll be a wishlist that isn't 80% brown items and this week is not it.
Sezane Valerio Jacket* (I'd wear this in a M)
I'm into the idea of a lady-like bomber jacket. I don't need an oversized leather number as I already have my Whistles Clean Bonded Leather Jacket*, instead I like the idea of a CHANEL-esque button-up but something a bit more relaxed than that. I think it could work as a nice layering piece - like a jacket under a coat that still looks polished once you've removed your coat at your destination. Can you tell I'm a bit obsessed with this idea at the moment and mention it in EVERY SINGLE SUBSTACK!!? I think this could be it. The tortoiseshell buttons instead of a gold make it less stuffy and it looks like a good thickness in that it isn't too thick to layer. What do you think?
Whistles Black Fluted Sleeve Tunic* (I'd order this in a M)
Popping this one here as it's a very appealing dupe for the DISSH Ada Top*. It actually probably works out a similar price, but Whistles always have a cracking Black Friday offer so it might be one to bookmark for a purchase in two weeks time, plus you then don't have to faff around with international returns if you need to switch sizes. This one looks like it tucks into clothing well and the slightly mock-neck is a nice touch.
Christopher Esber V-Neck Gown* (I ordered it in an AU 10, which I think is a M)
A bit of an out-there purchase, but I've been lusting after this dress since I saw it on some of my fashion faves over the summer. I think Estée wore it in the blue and Sam wore the black version a load on her summer holidays and kindly alerted her followers this week that it was on a massive discount (like 40%!!!!). It's still an investment purchase for me, but I feel like it's such a versatile dress in that because of the silk it's cool enough for a warm weather holiday to wear out in the evenings, but also the long-sleeve makes it winter cocktail-style appropriate too. I have a relaxed dress code wedding coming up in a few weekends time and I'm 100% going to wear this. So thank you Sam!!!
The Wardrobe Edit is a reader-supported publication. To receive new posts and support my work, consider becoming a free or paid subscriber.
This post is for paid subscribers